Two bedroom, 1 bath, Rue de l'Universite, Paris, 7th arrondisement
Stayed 8 nights, May 2012
Travelers: me, husband and our 19 year old niece
Exceptional view of the Eiffel Tower
I found the apartment at 211 rue de l'Universite through a link to "other properties" on a VRBO.com listing. The actual apartment website is
http://www.rentalfrance.com/index.php?location=rue-de-l-universite-effeil-terrace
I wanted an incomparable view, two bedrooms and a price we could afford. This apartment fit the bill.
It was small but adequate for the three of us; any more bodies and it would have been tight. I liked it a lot and would stay there again—the view is incredible: almost full on of the Eiffel Tower; so close we could hear the ET elevators going up! We were able to get the apartment early, 1030am, which was very nice. Also nice were the free wifi and free phone calls to the US. The beds were very comfortable and we slept well. The sofa was comfy, too. Bathroom was pretty nice—all marble, good shower. Kitchen was tiny but adequate; washer/dryer worked well. The only caveat was that there was a lot of stuff which made it difficult to unpack our bags for our 8 night stay.
Overall, it is a very nice apartment and we'd definitely rent it again on a subsequent trip. I would recommend it to friends and family with no hesitation.
(photos and a little more about the "caveat" on my "blog" which is
completely non-commercial
.
www.herewegoagain-paris.blogspot.com
)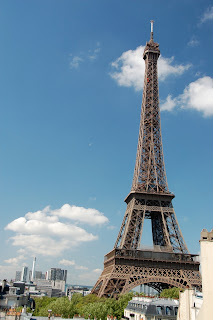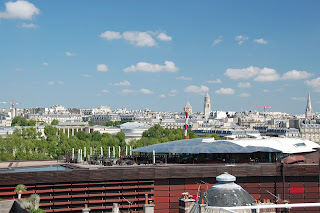 Looking at our "neighbor" Quai Branly Museum from the balcony