When a friend was offered the free use of someone else's timeshare in Madeira, and asked me along, it would have been churlish to refuse.
Madeira's an island of mountains, ravines and rocky inlets, out in the Atlantic between the Canaries and the Azores, with narrow coastal strips that don't allow much, if any, space for bucket-and-spade beaches. As a volcanic island, it's very fertile, originally attracting Portugal's interest for its timber, and subsequently a prolific producer of fruit and other agricultural produce. Its tourist market is mainly visitors from cruises, and (by reputation) older and better-heeled retirees.
Funchal, the capital, like many a Mediterranean island town, has its harbour/marina/cruise terminal and its its traditional fishing village core. Along the steep slopes dropping down to the shoreline, modern hotels and apartments with their gardens spread out to either side to maximise the opportunities for sea views and exposure to sunshine. But the solid mass of suburban development is punctuated with occasional gaps: the terraced plots of bananas that cover so many of the steep slopes behind retain a foothold right down to busy boulevards and shopping centres that, otherwise, might be anywhere.
We stayed in a timeshare apartment in one of those modern coastal complexes, some way out from Funchal town centre: pleasant and efficient enough but somewhat characterless. However, there were plenty of places to eat in the streets round about, and one hideaway restaurant at the bottom of the cliffside lift - one of those places which look not much more than a shack, but serve excellent dishes (mainly fish, of course). Moreover, bus services in and around Funchal are excellent, so there was no difficulty getting out and about.
What pulls the tourists to Funchal itself is in and around its centre, with its
market
, fancy
mosaic paving
, flamboyant
cathedral interior
, museums and
grand town hall
, arty displays and other distractions and entertainments for the visitor: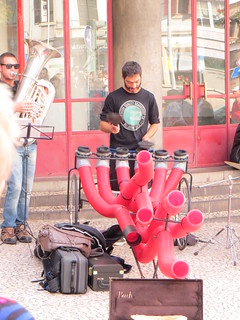 Up in the hills behind Funchal (so high there's a cable car up to it) is the village of Monte, which hosts not only the last resting-place of the last Habsburg Emperor and the start of Madeira's much-touted
street toboggan rides
(once a primary means of bringing goods down to the port), but also several gardens.
One of them is the Palace Tropical Garden, which sets into a deep ravine a largely Oriental-style garden with a large collection of other tropical plants and traditional ornamental tiling with a focus on Portugese links to Asia.
But the ordinary domestic gardens can show some
interesting displays
, not to mention the wild plants, which can verge on the weird and wonderful:
Madeira's striking landscape offers plenty of opportunities for walking, particularly those, unique to the island, offered by its levadas - the irrigation channels built to take mountain springs and streams down into the supply system for Madeira's farms and people. As such, they provide a network of routes in and around the moutain slopes to various scenic viewpoints.
Not all of them have a handy beaten path running alongside, so group walks with a guide are a useful way for the visitor to find their way safely. To get to and from the roads, there may be steps up and own, of varying heights and surfaces (sometimes sharp-edged cobbles, sometimes flat stone that gets slippy in the mists). The path may be wide and well-gravelled, or require you to inch your way along the narrow stone sill beside the channel, with nothing but a wire fence to protect you from the drop, or to hop or clamber over curiously shaped roots across the path. In a dripping mist, the atmosphere can be almost other-worldly, which is only increased when you're told those arching branches and huge roots are actually a variety of heather.
Everywhere
lichens
coat the trees and bushes, and occasionally a view of
distant ravines
and mountains will open out. But it's wiser to keep a close eye on the next piece of tricky ground to cover, until at last you reach the destination, in this case a particular set of cascades.
And if
looking at falling water
begins to pall, the local population has learnt this is a good place to come and pose for photographs, in the hope of some treats:
It's also possible to book guided walks around the high peaks in the centre of the island, and the photographs suggest the views are glorious. However, the day we booked, though the weather was fine in town and on the coast, but the cloud became thicker and colder as the van climbed up and up. At the top, the bushes were coated in ice and visibility didn't extend more than a few yards beyond the gift shop. So the guide's Plan B was a walk along a coastal headland, and in less than half an hour, we were in full sun and temperatures like an English summer.
And there was no shortage of
compensatory vistas
:
Resources
Official tourist information