Avebury is a large stone circle on the edge of the Salisbury Plain, in Wiltshire, west of London. The main circle of stones is about 3/4 mile around and surrounds the village of Avebury. You can walk up to the stones and touch them. There are smaller circles inside the large circle. The large circle is surrounded by a large man-made ditch. The site dates from 2600 BC. Avebury is an UNESCO World Heritage Site.
Avebury is not as well known as Stonehenge and is not as jaw-droppingly perfect, but is magnificent in a different way. Plan to spend a day in this area. There are other prehistoric sites nearby and others a short drive away (Wiltshire White Horses). You are less than an hour's drive from Stonehenge.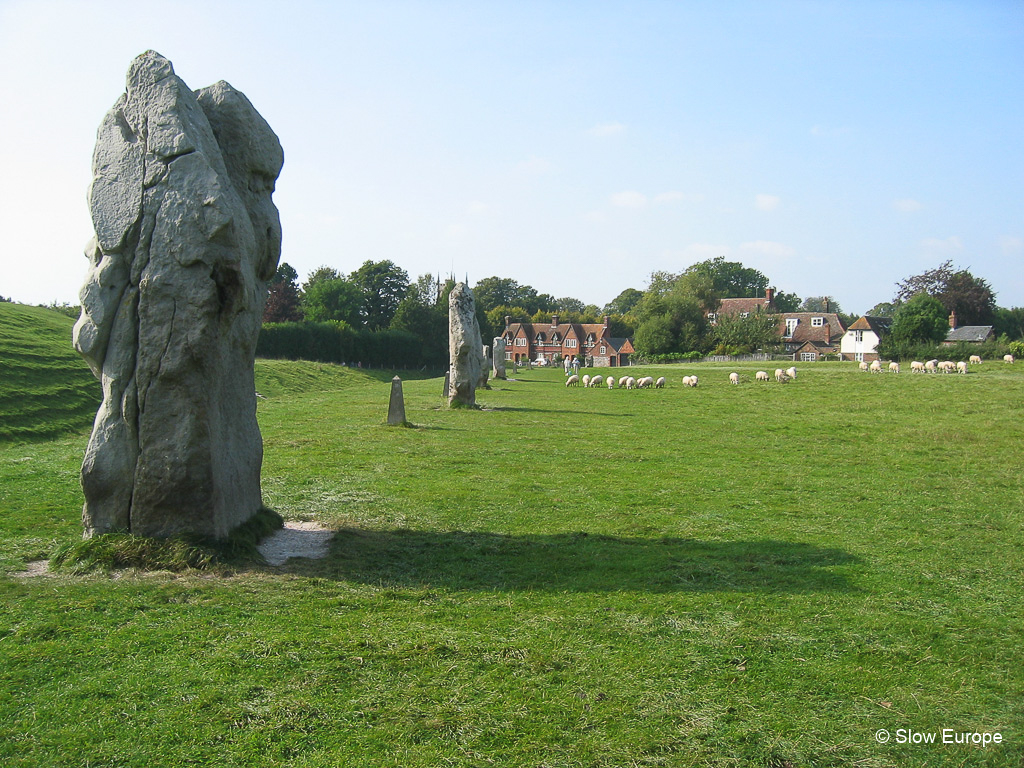 Some of the village buildings inside the large stone circle.

Other Prehistoric Sites at Avebury



West Kennet Avenue

is two rows of stones leading out from the main stone circle at Avebury. At the end of the avenue, turn right and walk to the top of the hill to see Silbury Hill.

Silbury Hill

(2400 - 2000 BC) is the largest prehistoric mound in Europe. From a distance it looks like a hill, but when you get closer you see that it was manmade. You can get close to the hill, but you cannot walk on it (although sometimes sheep are grazing on it). Walk to Silbury Hill from Avebury (30 mins) or drive (parking available).

West Kennet Long Barrow

(3700 BC) is a large burial mound in a field past Silbury Hill. Walk there from Avebury (45 mins) or park in the lanes nearby.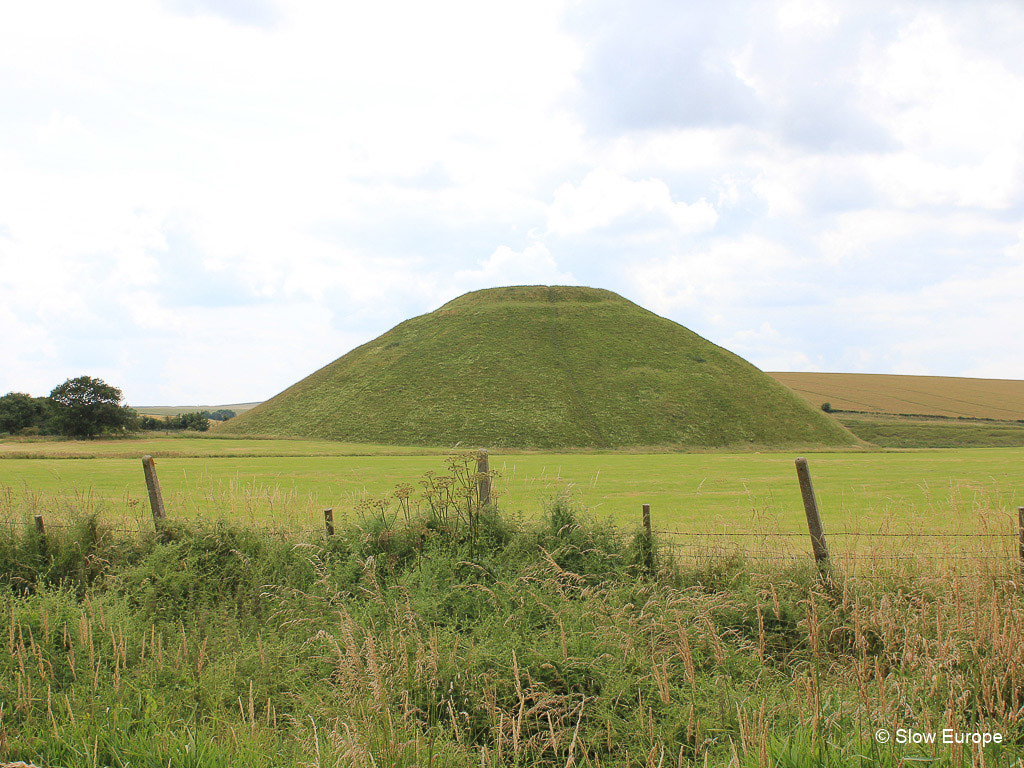 Silbury Hill. This perfect hill is man made from prehistoric times.
Hiking at Avebury
There are several good walks in the area. These are two of our favorites:
- An easy one hour walk takes you from Avebury, along the West Kennet Avenue to the end of the field where you turn right (signed) and climb up a hill where you get a good view of Silbury Hill, then down, and turn right to walk along the river back to Avebury.
- A longer walk starts from Avebury, following a lane to the Ridgeway Trail (National Trail that follows an historic footpath). Turn right and follow the trail to West Kennet where you turn right for a trail to the West Kennet Long Barrow. From here follow the trail beside Silbury Hill and back to Avebury.
We have visited Avebury many times. It is a very different experience from Stonehenge. No lines for tickets, you can touch the stones, the site is large and takes some time to explore. Silbury Hill is very interesting. If you were driving by you would not realize it was man made until you noticed how perfectly shaped it was.
Location
: England - Wiltshire - Avebury
Avebury is run by National Trust. No entrance fee.
Park in the car park off the A4361 south of the village - Pay & Display (National Trust members free). Parking also at Silbury Hill.
In the center of the village are some National Trust buildings with a shop and a restaurant.
Website
:
National Trust - Avebury
Map showing all the major sites at Avebury.
Google Map
More Photos
Avebury is a large stone circle on the edge of the Salisbury Plain.